Connectivity Summary
MongoDB stores data in flexible, JSON-like documents, fields can vary from document to document and data structure can be changed over time.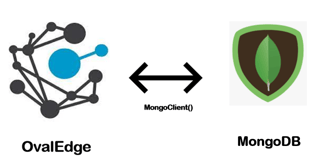 Ovaledge uses MongoClient() API to make a connection to a running MongoDB instance.
The drivers used by the connector are given below:
Connector Capabilities
The connector capabilities are shown below:
Crawling
Supported objects and data types for Crawling are:
| | |
| --- | --- |
| Supported Objects | Supported Data types |
| Tables, Table Columns | String, Integer, Boolean Double, Timestamp, Object, Date, Object ID, Binary data |
See this article Crawling Data for more details on crawling.
Profiling
See this article Profile Data to know more about Profiling.
| | |
| --- | --- |
| Feature | Support |
| Table Profiling | Row count, Columns count, View sample data |
| Column Profiling | Min, Max, Null count, distinct, top 50 values |
| Full Profiling | Supported |
| Sample Profiling | Supported |
Querying
| | |
| --- | --- |
| Operation | Details |
| Select | Supported |
| Insert | Not supported, by default. |
| Update | Not supported, by default. |
| Delete | Not supported, by default. |
| Joins within database | Not Supported |
| Joins outside database | Not supported |
| Aggregations | Supported |
| Group By | Supported |
| Order By | Supported |
Pre-requisites
To use the connector, the following need to be available:
Connection details as specified in the following section should be available.
A service account, for crawling and profiling. The minimum privileges required are:
| | |
| --- | --- |
| Operation | Access Permissions |
| Connection validate | Read Access |
| Crawl schemas | Read Access |
| Crawl tables | Read Access |
| Profile schemas, tables | Read Access |
| Query logs | NA |
| Get views, procedures, function code | NA |
Connection Details
The following connection settings should be added for connecting to a Mongo database: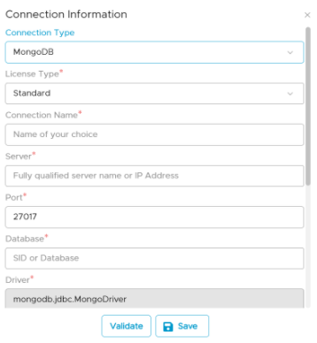 Database Type: MongoDB
Connection Name: Select a Connection name for the MongoDB Server database. The name that you specify is a reference name to easily identify your MongoDB Server database connection in OvalEdge.
Example: MongoDB Connection.
Server: MongoDB Cluster URL (can vary)
Example:13.59.52.223:27017
Port: 27017 (can vary)
Database: admin
License Type: Standard
Driver: mongodb.jdbc.MongoDriver
User name: MongoDB User
Password: MongoDB Password
Connection String: (Cluster URL)
13.59.52.223:27017,18.223.24.104:27017,18.222.24.19:27017/?readPreference=secondaryPreferred&replicaSet=TestRS-0&authSource=admin
Plugin Server: Optional
Plugin Port: Optional


Once connectivity is established, additional configurations for Crawling and Profiling can be specified.
Property

Details

Crawler configurations

Order

Priority of the rule

Start time and End time

Used when crawling/profiling are to be scheduled

No. of threads

No. of threads used to perform profiling

Profile Type

Row count Constraint

Disabled/Auto/Sample

No. of rows to be fetched

Sample profile size

Sample profile row limit

Sample data count

Query Timeout

Time to wait for response

Crawler Options

Only Tables can be crawled

Crawler rules

Only table columns include and Exclude regex can be used.
Points to note
In crawler rules, we won't be using include and exclude regex functionalities for functions and procedures and they are not present in the MongoDB.
FAQs
Where can we find the driver?
Driver can be found from the above links specified in the connectivity summary.