OvalEdge Denodo connector crawls the metadata like Views, Relationships, Stored Procedures, Functions etc. from Data Virtualization Platform (DVP) and profiles the data.
Connectivity Summary
OvalEdge connects to Denodo via its JDBC API. OvalEdge Denodo connector extracts metadata from Data Virtualization Platform (DVP). DVP is a logical data layer that integrates all the enterprise data siloed across disparate systems, manages the unified data for centralized security and governance, and delivers it to the business users in real time.
OvalEdge supports Denodo JDBC driver. Ensure that the driver has been loaded into OvalEdge. To load any driver please see this article Configurations.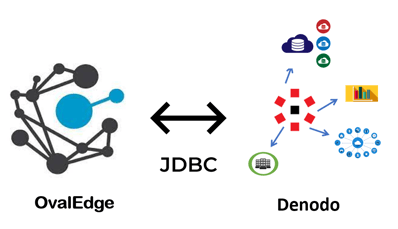 Technical Details
Denodo is connected to the OvalEdge application thru the JDBC API. Mostly JDBC VDP API is configured to use port 9999. You must ensure that OvalEdge connectivity is open to the JDBC port of Denodo to connect with OvalEdge application. Please confirm with your database administrator.
Only SELECT operation is used to Crawl and Profile the metadata like views, stored procedures, functions.
By default, the profiling configuration is set to 100,000 records but you can change this. This limits the profiling processing power and the Denodo does not degrade the performance while profiling.
Note: We can perform complete profiling for all the data using SQL queries.
Data Lineage can be built on views.
Pre-requisites
To implement a connection to your Denodo from OvalEdge, you must have the following:
Hostname or IP address of an On-premises or Cloud-based Denodo instance.
Database name
Choose and add the right Denodo client drivers into the OvalEdge Jar path to communicate to your Denodo database. Check the Configuration section for further details on how to add the drivers to the jar path.
Connection Details
When you set up a Denodo connection, you must configure the connection properties. The following are the Denodo connection properties:
Database Type – Denodo
Connection Name - Select a Connection name for the Denodo database. The name that you specify is a reference name to easily identify your Denodo database connection in OvalEdge. Example: Denodo Connection
Hostname / IP Address - Database instance URL (on-premises/cloud-based)
Port number – 9999 (default)
Sid / Database – Name of the database to connect.
Username - User account login credential
Password – Password
Driver Name - JDBC VDP driver name for Denodo populated automatically (Make sure that the jar file is configured in configurations)
Example: com.denodo.vdp.jdbc.Driver
Connection String - Denodo connection string. Set the Connection string toggle button to automatic, to get the details automatically from the credentials provided. Alternatively, you can manually enter the string.
Format:jdbc:vdb://<hostname>:<port>/<database>
FAQ
How much does the driver cost?
The JDBC Driver for Denodo is available at no additional charge.


What is Data Virtualization(DV) ?
Data virtualization is the process of aggregating data from different sources of information to develop a single, logical and virtual view of information so that it can be accessed by front-end solutions such as applications, dashboards and portals without having to know the data's exact storage location. With data virtualization, you can query data across many systems without having to copy and replicate data, which reduces costs.