Connectivity Summary
An out of the box connector is available for the SFTP database. It provides support for crawling database objects, profiling of sample data.
Jsch allows you to connect to a 'ssh server' and use port forwarding and file transfer.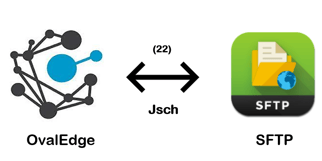 The connectivity to SFTP is via Jsch library, which is included in the platform.
The drivers used by the connector are given below:
Driver / API: Google Cloud Storage

Version: 0.1.5

Details: https://mvnrepository.com/artifact/com.jcraft/jsch

Note : Latest version is 0.1.55
Technical Specifications
The connector capabilities are shown below:
Crawling
| | | |
| --- | --- | --- |
| Feature | Supported Objects | Remarks |
| Crawling | Buckets | While crawling root FileFolders / Files will be cataloged by default. |
Profiling
Please see Profiling Data for more details on profiling.
| | | |
| --- | --- | --- |
| Feature | Support | Remarks |
| File Profiling | Row count, Columns count, View sample data | Supported File Types: CSV, XLS, XLSX, JSON, AVRO, PARQUET, ORC |
| Sample Profiling | Supported | |
By default, the service account provided for the connector will be used for any user operations. If the service account has write privileges, then Insert / Update / Delete operations can be executed.
Pre-requisites
To use the connector, the following need to be available:
Connection details as specified in the following section should be available.
An admin / service account, for crawling and profiling.
The minimum privileges required are:

Connection validate
Crawl File Folders
Catalog files / folders
Profile files / folders
Connection Details
The following connection settings should be added for connecting to a SFTP Server: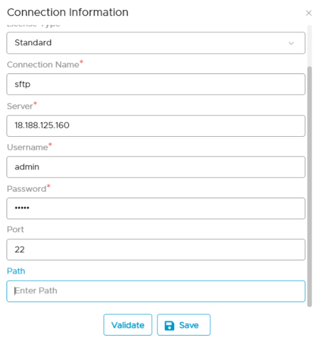 Database Type: SFTP
Connection Name: Select a Connection name for the SFTP Server. The name that you specify is a reference name to easily identify your SFTP SERVER connection in OvalEdge.
Example: sftp Server Connection
Server: Where SFTP server hosted
Username: User account login credential
Password: Specified User password
Port number: 22 (default), it can be changed
Path: The directory of SFTP path - required to crawl else it will crawl the root directory
Once connectivity is established, additional configurations for Crawling and Profiling can be specified.
Property

Details

Crawler configurations

Crawler Options

File Folders / Buckets by default enabled

Crawler Rules

Include and exclude regex for File Folders and Buckets only but not for files

Profiler Settings

Profile Options

No Existence for Profile

Profile Rules

No Profile Rules Exist
Points to note
Supported File Types: CSV, XLS, XLSX, JSON, AVRO, PARQUET, ORC
Details of the file / folder can be viewed in the File Manager for which user has access.